and success will follow you!
I am sure you have read this quote a zillion times!
But how many of us have actually followed our passion?
Some of us are stuck in the career that gives us the heavy pay check to help build another's dream and not ours!
And some of us are still living our fears and not our dreams!
But there are few of us who have actually followed their passion, worked hard, made many sacrifices and finally "living their dream today!"
One such person is "The Golden Girl of India", PT Usha – a household name in India during the 1980-90's. She is the sporting legend who continues to be a role model for generations.
"From humble beginnings come great things"
Like most Indian athletes, it has always been a story of uphill struggle. Born to a poor family, she had regular health issues due to poverty. Despite all adverse conditions, she always kept her passion for sports alive. Usha was noticed by the school and was advised to pursue athletics seriously so that she could land the job of a sports instructor, since sports as a profession or even participating in races was not common among girls in those days.
"Seize every opportunity life offers you because some opportunities don't come twice"
She participated in as many competitions as possible. Be it an inter-school or inter-state meet, she would be there to win the champion's trophy each time.
At the age of 12, she was awarded a scholarship of Rs. 250 by the government which helped her represent her district for the National School Games and win the individual championship. During this event, she was noticed by the famous Indian athletics coach, O. M. Nambiar who went on to coach her for the rest of her illustrious career.
Under his coaching, her performance improved tremendously and it was raining medals. She also set many new records for the inter-state, National and Asian games, she participated thereafter.
"Losing is the key to winning"
At the age of 16, she – the youngest Indian sprinter made her first Olympic debut at the 1980 Moscow Games but was eliminated in the heats of the 100m finishing fifth; it was a landmark moment nevertheless.
The Breakthrough achievement came at the 1984 Los Angeles Olympics. She was the first Indian woman to reach the final of Olympics. She entered the finals and came fourth falling behind the eventual bronze medallist by 1/100th of a second. She had achieved a record of 55.42 seconds, the very first time the 400m hurdles were added to the women's athletics. This still stands as India's national best.
"Great things come from hard work and perseverance.
No excuses"
She missed out on an Olympic medal, but back home in India, she was a national heroine. She was flooded with financial rewards and even given a new name 'Payyoli Express'.
The same year she was conferred the Arjuna Award and the Padma Shri.
Usha dominated the 1986 Seoul Asiad and won the 200m, 400m, 400m hurdles and 4x400m relay and became the 'Golden Girl'. She was awarded the Adidas Golden Shoe award for the best athlete.
There was no looking back then! She continued to shine at various international events until the early 90's. She has won 101 international medals so far.
"Starting over is the opportunity to come back better than before"
After her marriage and birth of her child, she took a break from the sport in 1991 and made a successful comeback in 1993. Silencing the critics, she astonished the country by winning 2 bronze medals at the 1998 Asian Track Field meet in Japan, surpassing her own record.
Usha was named sportsperson of the century and the sportswoman of the millennium by the Indian Olympic Association and continues to have the honour of being the Indian with the most international track and field medals. She is also known as the "Queen of Indian track and field".
"A strong woman stands up for herself,
A stronger woman stands up for everybody else"
Following retirement in 2000, she opened the Usha School of Athletics where she dedicates all her time towards grooming young sporting talents.
This sporting star has won the hearts of Indians not only because of her achievements on the track and field but also for the fact that she triumphed in life's race, overcoming all the challenges life threw at her. Be it financial difficulties, inadequate facilities and health problems she faced them all with immense confidence and emerged as a winner. And that is how a young kid from a small village became the sporting legend of India.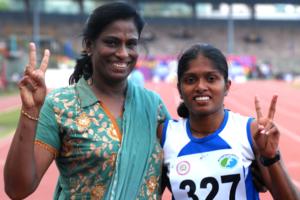 About the author:
Chethana Chandran
PMO by profession and Amateur writer by choice
Currently a stay at home mom of a toddler.
Hobbies include playing badminton, trying new cuisines and crafting.