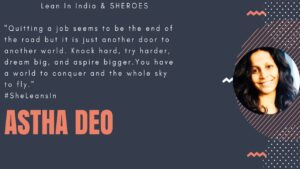 When I took my first career break, I was unaware of the harsh realities of society for women coming back to corporate life after a break. I took a career break twice, the first time was involuntary, but the second time, was at my discretion
At the age of 22, I began my journey on the corporate ladder, starting with Infosys. I was young, full of enthusiasm, dreams, goals and plans. I wanted to conquer the corporate world and I loved every bit of it. The Infosys, Mysore campus, had world class facilities, boosting my ambition and determination to succeed. Shortly after kick-starting my career, I met my Mr. Perfect, and I couldn't stop myself from getting hitched. Having a working mother and almost every single lady in my family employed in various sectors, it never crossed my mind that marriage would affect my career by any chance. But my life changed after marriage. Within a year, I changed my city, my home and this affected me in mixed ways. Though my husband was my rock, my health cheated me bitterly. A miscarriage toppled my life upside down and I lost all my confidence. When I think of it now as a 33 year old, it was just an accident, but for a 24 year old, it felt like a dead end. I lost interest in almost everything. My health compelled me to quit my job and everything about me was questioned by society, from my body structure to my mental stamina. In a bid to prove my dedication towards having an offspring, I quit the only thing which I considered my identity at that time, my job. Results were fine for the first 6 months, as at that time my mind was just getting acclimatized to the transition but after that I started to feel caged. Despite having a wonderful husband and a loving family, it still felt like I was going nowhere. By God's grace, my daughter was born. I was super happy but I started wondering, that if I had a job, would I have been able to balance motherhood as well as professional life? However, I realized that as a mother, I was not ready to let go of my precious little one and keep her in someone else's care. As soon as she turned two, when she joined a play group, I began my job hunt. To my surprise, after a break, I was not at all welcomed. I didn't know the word "Networking". A fresher, who was welcomed before by two IT giants, was now standing on a cross road, despite having 3 years of work experience. But one thing had not changed, I had not learnt to give up yet. I continued talking to people, asking them for job opportunities everywhere. During this time, there was one thing I was sure of- to use my skills and learnings to the best of my advantage. After all the struggle, I was offered an opportunity by a friend. I thank Deepti Paranjape and Anvay Paranjape for offering me a role, which gave me exposure to social media and digital marketing with involvement in website making. It was freelancing but I was acquainted with many new things. Working in a startup had its own perks. Though they were not paying me like I was paid in my previous job, but they were literally hand-holding me to help me come back. Unfortunately, I had to move from that location but I was a changed person. I started believing in leveraging opportunities available to me rather than just trying to grab the best. While networking, I met my new neighbor, who too runs a startup with employee strength of 5 at that time. I got an opportunity to work with him. I joined this organization with employee ID 06, and boy, what a transition it was, from being employee Id 70715 in my previous organization. At this stage, I was ready to test any water. I joined the organization as a software tester but I juggled between various teams, from human resources, to recruitment, to social media marketing, and soft skills training. I was loving it like anything. I was working with a bunch of passionate people, and their enthusiasm was contagious. My manager was utilizing all my skills, and in that way, I found my lost love, writing. While writing a few health articles, I got so lost in them that I didn't realize when I started crafting stories in and around health issues, especially women health. Meanwhile, I planned to have my second child, but this time, I was not at all afraid or anxious. I enjoyed working throughout my pregnancy and delivered a baby. I returned to my job after a break of 6 months. Leaving the little one alone would make me anxious often and began impacting my health too. I had finally figured out what I loved to do but now as I had grown in the organization, I was feeling myself a misfit too. Now, quitting was not an option for me, but quitting the job I was doing, to start pursuing what I loved was definitely an option. Even though I loved every moment of it and enjoyed being with my elder one, I was missing that feeling with my younger one. My job was not as exciting to me as it was earlier and above all, I knew I could afford to do what I loved to. So, this time I quit my job, to be a mother for a baby, for being a writer and for a lady. It was my choice, because I know now that I have the talent, which makes me feel content. I have skill, which adds value in my life as well as to others. This time, I want to work in what I love to work. Here, I am again ID less but my identity is at the right place, guarded and grounded. Meanwhile journey till now was wonderful, I love to thank all my managers and co-workers, who helped me to live an amazing professional life till now. Quitting job seems to be the end of the road but it is just a door to another world. Knock hard, try harder, dream big and aspire bigger. You have a world to conquer, and a whole sky to fly!
Please note: The views, opinions and beliefs expressed by the authors in the articles on the blog are theirs alone and do not necessarily reflect those of Lean In India.