What could be a better way to pay glowing tributes to Manipur's Mangte Chungneijang Mary Kom, more commonly known as 'Mary Kom' than taking a fast-ride through her life narrating the emotional experience of walking down memory lane as described in her autobiography 'Unbeatable'.
A story and an inspiration – in the form of a reverse poem. You can read it from bottom to top too!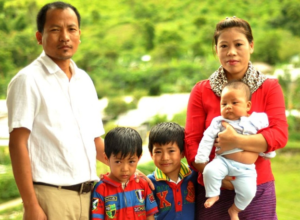 Being Tough was a natural for her.
During formative years
Controlling bullocks on rice fields
That built her stamina
Her strength
Conquering hardships resulted in
Her mom weaving extra shawls
At nights under a boton lamp
Struggling to make ends meet
Her Dad relocated for labor
Took up boxing out of sheer interest
To help parents financially
Sports was not just a dream
As a girl
Packed with Action
Watching Bruce Lee, Jackie Chan movies
Fight Stronger opponents
Reinforced the resilience and charge
For success
She was hungry
Eating dry fish and Moreh pickles
In far-off training places
Reminiscing her humble beginnings and connection
To build a presence from her 'Kom' roots
Her ambitions soared
Became energetic & restless
She needed exposure and
A coach
Finding her
A frail girl with a Gold earring
Determined to learn
Earn a medal
Leads to
Discipline, dedication, determination
Priceless
is
to win a prize
The ambition in her
With a fit body and mind raring to
Be a world-class player
To win
competitions
In unfamiliar nations and terrains
That Requires belief in God & self
To Kneel, fast and pray
What Strengthened her was
When Fate decides her future
Choice of Marriage
May be career-ending
A reliable tower of support
No mere escort
Onler and her lost passport
Strengthened the bond
Would end up partner and friend
Boiling tea in the girl's house
To fulfil social obligations
Of a Long distance Marriage
Surreal moment
On throwing away the charms & talisman
Her Bad luck ended
Got a strong conviction to face anyone
Assert the identity of 'Kom' tribe
Earned a government job through Sports quota
Boxing Career was rocking
Just when her Biological clock was ticking
Blessed with Twin bundles of joy.
Nursing babies don't make her lazy.
People undermine comeback
Especially after a caesarean
Diet and supplements
Nutrition and Training
A supportive partner and family
Her comeback was a perfect timing
Just when women's boxing got listed
At Olympics
Obsessed for a medal
To fulfill a childhood dream
Made her practice harder and stay fit
Efforts never fail
She returned home with a bronze medal for India in 2012 Olympics
Receives Standing Ovation
Grooming a Next generation
Started an Academy
Giving back to society is fulfilling.
Blessed with three sons.
She loves being a mom.
This speaks her life message
Nothing
Is
Impossible.
She is a born fighter.
She's an Indian too.
Her oriental looks confuse you.
Calling her Chinkies
Not a fair game.
(Now read the poem in reverse, from bottom to top)
About the author:
Annie Thomas
She has over a decade of experience in the IT industry, working in product development and in customer implementations in banking. Currently, she is a Product Specialist and an Associate Consultant in Tata Consultancy Services, Bangalore.
Please note: The views, opinions and beliefs expressed by the authors in the articles on the blog are theirs alone and do not necessarily reflect those of Lean In India.