Is India ready for the pledge of Equality In Gender? Equality in responsibility Equality in sharing & Equality in pay?
April 10th is Equal Pay Day in the USA. Now for those who are not familiar with the concept or the date – this is the approximate day till when a woman in USA must work into the new year to make what a man made at the end of the previous year. So if a man earned 1 lac till year end, a woman needs to work till April next year to match up with his earnings.
Well, with the same calculation, India would have to celebrate Equal Pay Day around August based on the Accenture – Getting to Equal 2017 survey. With this realization let's look at the Women participation rates in India, and this data throws no surprises. As per ProEves studies over the last 2 years, women participation in India Inc. is stuck at 20%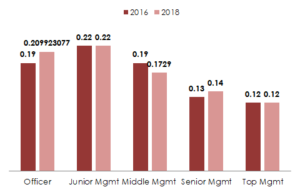 The Entry / Junior & Middle level managers see 20-22% participation, but this is sharply reduced to 12-13% at Senior & Top levels. This clearly highlights a leaking pipeline from Middle to Senior level on account of lack of equal opportunities, pay and maternity. While we are talking about maternity, another shocking data point to look at is the impact of motherhood on pay. The visible pay gap in the graph below is global pay differential published in the Gender Inequality research 2018 by National Bureau of Economic Research. We won't be surprised if the pay differential curve is even sharper in India compared to global average.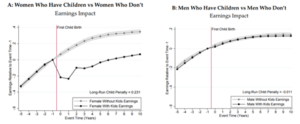 Decision to expand their family is usually considered mutual in a family. So, why is the impact so partial? The man's wages & career seems to sail smoothly even after an addition to the family. There seems to be absolutely little or no impact on their earnings. There could be lot of reasons that can be cited for this impact – lack of support from family, employer or in some cases; women just refuse promotion & additional responsibility to get few additional hours to take care of children. Lots of women sacrifice their highly paid job and opt for a lesser paying job which does not do justice in terms of quality of work & earnings. The employers too in certain cases are reluctant to give responsibilities to women assuming that their focus will be on children & they will not be able to contribute the way they were doing prior to childbirth. The opportunities & pay is even lesser for returnee women workforce.
With unequal wages and lowest women participate rates in a decade, it's time India Inc. invests in the following key interventions to attract and retain more women employees –
Activate women counselling/support groups – It's time for us to accept that women are more stressed at work than men as they are also the primary care givers. As organizations it's important to support the working primary care giver by way of parental support initiatives/parental concierge services or counselling groups. Based on our research, the cost of such an initiative will not be more than 1% of the cost of post maternity employee loss.
Explore the gig economy and investing in women talent – India Inc. needs to explore and embrace the open-talent economy that helps organizations blend full-time employees with short-term consultants, making them nimbler and more efficient. Companies should look at hiring more women gig workers for focused skills & experience.
Create credible Childcare/Daycare support – The daycare arrangement is mandatory for all offices of all organizations after the amended maternity benefit law was passed last year. If implemented well, it can be of great help to working parents. It's very important for all organizations to understand the parental need/preferences, identify liabilities, understand the childcare industry and then prepare a strategy that works well for all their offices across India. Having a benefit that has low utilization is worse than having no benefit.
Engage & support line managers – More than 70% of line managers are men who need to understand the compelling need for gender balanced workforce. Despite designing good practices, we all know that implementation is the key and therefore tools & practices for line manager's engagement are critical. Companies should invest in technology to support line managers, providing regular resource updates to help them understand the diversity cause/actions. Involving and recognizing line managers who 'walk the talk' on diversity, flexibility and inclusion will help move the needle. Companies need to involve male managers in having open and honest conversations on diversity with their business teams.
All this together will help us share the responsibility of stressed working parents. These small steps will make way for a large and positive shift in our society. A shift which is much needed to bring in equality – equality in gender, equality in responsibility, equality in sharing & equality in pay.
About the authors:
Ketika Kapoor, Co-Founder ProEves & Malika Dhongde, Corporate Lead ProEves
ProEves
is the largest childcare solutions/management company that supports organizations with Daycare /Childcare and Parenting programs. We also support organizations on Maternity and Diversity Solutions.
Please note: The views, opinions and beliefs expressed by the authors in the articles on the blog are theirs alone and do not necessarily reflect those of Lean In India.