Power dressing, the work wear 'uniforms' for women, consisting of padded shoulders, pant suits and neutral shades have, now, been forgotten and a new age of power dressing is emerging. Beginning with the feminist revolution, fashion has diminished the line between women's clothing options for her work wear and other aspects of her lifestyle. Power dressing in India, consisted mainly of traditional outfits of our country. One of the most elegant attires in the world, the saree was our power dress through the decades.
However, the modern Indian woman has evolved and now chooses to dress comfortably whether it is Indian or western wear. Here are a few points that should be kept in mind while creating a power dressing ensemble:
1. Bottom wear :
It's no longer only about the shirt that you pick, but the trousers too. A variety of trousers are now incorporated in work outfits that can easily be carried forward to other facets of the working women's life. While experimenting with different types of trousers: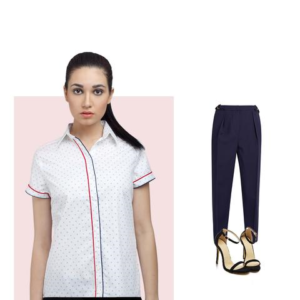 Printed White Cotton Shirt
DO : Tuck in your cotton shirts if you're pairing them with culottes or wide-leg pants, while leave them out when pairing with fitted trousers. This adds movement to your attire. You can tuck in shirts which are made from fluid fabrics, like georgette or silk and easily pair them up with all types of trousers.
DON'T: While pairing for your work wear, keep away from printed trousers, though you can style with striped pants. If you'd like to keep the trousers in the limelight, wear a pastel shirt or blouse instead of wearing one with several silhouettes.
2. Colors :
As the new fashion trends have defined, it's not necessary to only carry neutral shades in your work outfit. The technique is to incorporate the colors in a way that complements you:
Printed Orange Silk Shirt
DO : Include a few bold colors in your work wardrobe, while accessorizing them with neutral shades. You can pair up bold printed tops with neutral pants or a neutral shirt with pastel color trousers or skirt. The key is to balance out the colors and tie them together in a story.
DON'T : A recipe for complete disaster is when you add numerous colors together in one ensemble. When more than 3 colors are involved, it creates a sense of chaos and hampers with the power dressing.
3. Fabrics:
Gone are the days of only picking cotton and linens for your work wardrobe. With the trends of 2017 focusing on workwear for women, several fabrics are now being incorporated while creating feminine apparels:
Black Georgette Bow Tie Shirt
DO: Embrace the feminine drapes in your office wear by including georgettes, silk, chiffon and even lace in your collection. Pair these shirts or blouses with pleated or wide-legged trousers or even skirts, as these materials would elegantly drape around your body. You can also carry off dresses in these materials.
DON'T: You can try this fabric with almost everything, except for animal prints, which are perceived more as casual. Metallic prints are also not appreciated as a subtle work wear.
4. Accessories:
Different accessories add elements to your attire and provide a graceful and chic finish. Broadening the horizon of accessorizing, there are several pairings that you can experiment with: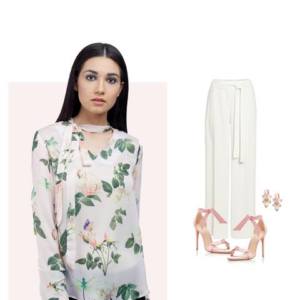 Printed Silk Bow Tie Top
DO: Include complementary colors through your shoes or jewelry that would bring together your outfit. You can pair your formal attire with pointed shoes and minimal jewelry pieces like subtle danglers, bracelets or necklaces. Chunky ornaments are also appropriate, when used as a single focal piece.
DON'T: Multiple pieces of chunky jewelry and jeweled shoes are more of an evening wear choice than a work one. Avoid peep toe flats, as they don't complement work wear attire very well, unless you have a pairing in mind.
5. Layering:
Concept of the west, layering has now inspired the Indian woman to experiment with her styling options. Due to the weather of the sub-continent, though with limited options, women are adding their own twists to their layers:
Off-White Cotton Lace Dress
DO: Accessorize your neckline with a scarf of a solid or minimal print style, adding depth to your outfit. You can also layer with a blazer or a long shrug, turning any smart casual top or dress into a formal one for your meetings.
DON'T: Exclude capes or open weave jackets out of your power dressing collection as these display a more casual attire. You can combine 2-3 layers in an ensemble, depending on the weather, but avoid adding too many color shades.
A great ensemble becomes significant when it commands a career defining moment or showcases authority.
Ombré Lane
defines power dressing as a great source of confidence through a great ensemble, which doesn't compromise on your personality. Try these tips for your next power dressing attire and create your own style!
About Ombré Lane:
Ombré Lane
is a workwear brand for today's Indian woman. We aim to provide the Indian working women with a versatile, comfy, and sharp yet feminine wardrobe using premium quality fabrics that they could carry from the meeting room to social engagements and daily life chores. Our clothes offer superior fits and are made for the India woman.
The brand is founded by Shweta and Prachi. Shweta is an MBA from The Wharton School and a graduate of IIT Bombay. She has over a decade long experience in ecommerce (Flipkart, Nykaa), Management Consulting and Retail across India and US. Prachi is a graduate of NIFT Delhi and has extensive experience in apparel design, production and merchandising.
Please note: The views, opinions and beliefs expressed by the authors in the articles on the blog are theirs alone and do not necessarily reflect those of Lean In India.