The boom of beauty and fitness industry is heavily driven by media and pop culture and it largely feeds off young men and women's insecurities about how they look, appear or even feel. Men and women alike, need to be shown the way to achieve a healthy body and mind, rather than aspiring for bodies that are airbrushed or photoshopped to another level of flawlessness.
Protein supplements, herbal juices, sauna belts and a whole lot of other products have got the cash registers of those companies ringing, thanks to the generation that is seeking these for getting in shape, toning up or to look like their favourite celebrity and fit in those awesome body con dresses.
Nothing wrong in aspiring for a fit body and great shape, however, when this becomes an obsession, or a way to fit in among peers, it can cause great harm to one's self esteem and mental peace.
Body shaming and slut shaming – these are words and more such, that are frequently used on various social media platforms highlight the alarming situation that –
a)beauty and fitness standards are no more gender specific,
b)heavy emphasis on being picture perfect is adversely impacting teens and young adults, and
c)social media is not solely but to a high extent responsible for encouraging these commentators who enjoy their anonymity and try to bring down various people, including celebrities with the 140-character limit they get to show their cowardice behind the screens.
Perception of one's body and appearance as positive is necessary for a healthy body image. At the impressionable age of adolescence, a child's confidence is made or destroyed by how he or she sees himself and is made to feel about himself or herself. Young teenagers often find themselves caught in the position where they are no more kids and are trying hard to be behave and dress like adults, but emotionally and physically, are incapable of doing so. In this quagmire, they often turn to media as their window to the outer world and get swept off and entrapped at the kaleidoscope of colors, charm and captivation. In no time, they adapt to the fads and trends of fashion, beauty and fitness at the ease of a button by ordering an appointment to the beauty clinic or buy the intriguing product.
Young adults, especially in their early 20s have also experienced such moments where they are lured by the stunning and statuesque models of Vogue or GQ or Vanity Fair among other popular magazines. They try to follow the latest and hottest trends in the industry, forgetting to comprehend its adaptability in their lifestyle and surroundings. Inability and failure to get those picture-perfect results often creates lack of confidence, increase self-deprecation and cynical opinion about one's own external appearance and as a result that impacts the psychological and mental stability.
Females are the most suitable target audience for commercials that encourage use of health products to get slim, develop abs and a perfect beach body. However, the issue that men face to have those perfect abs and chiselled body is a harsh reality which is best brought about by this quote, "It is just as hard to be Ken, as it is to be Barbie." Young boys and men also live under the pressure to conform to the standards that seem to be the accepted ones for their body, which are propagated through celebrities and various men's care products.
Young men, women, children and people at every age need to accept their body to the fullest and embrace its flaws and perfections equally. Fitness and health is a result of what one eats, does, believes and feels. All these elements play a significant role in giving you "best shape" or the "radiant glow" or the "well sculpted body".
Embrace yourself with all your heart. Every flaw from the perfect image is a gift that makes you stand out with a unique identity that people remember you for. Accept the beauty – the perfect imperfection – be it the curves or curls and understand that there are no standards. The true beauty reflects from the soul, it is seen in our attitudes and sparkles through the light from within. Beauty is therefore a reflection of our personality inside out.
Meet the author: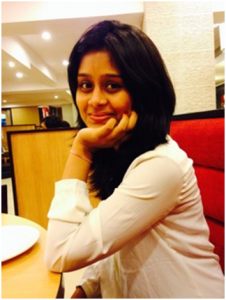 My name is Praachi and I am an economics and business student at New York University. I love travelling, watching movies and writing. I am also fond of trying out new cuisines.
Lean In is one of my favourite books, and to be associated with Lean In India chapter is a matter of great privilege and pride from me.
Please note: The views, opinions and beliefs expressed by the authors in the articles on the blog are theirs alone and do not necessarily reflect those of Lean In India.