Let your walls wear your colors – Muniba Mazari
Life is not simple. It is a bumpy ride, full of ups and downs. During ups, we are usually happy, elated and full of joy. But during downs, we feel strangled. We feel like that only our life is full of problems, everyone else is living happily. Well, this is the truth, people actually live happily but that does not mean they don't have any problems. They too have problems in their lives but they do not surrender to them. They fight back and win. They keep going.
Fortunately, I know many such personalities. One of them is Muniba Mazari. I got to know about her very recently and simply couldn't resist myself from writing about her.
Muniba Mazari is a Pakistani artist, model, activist and motivational speaker. She uses a wheelchair due to her injuries. Around 10 years ago, she met with a car accident which left her with multiple injuries due to which she became paraplegic. Therefore, after staying a lot of weeks in the hospital, she decided to find her inner strength with the help of art. She used art as a medium to break the chains of her physical disability. Her paintings depict her fears, aspirations, dreams, opportunities, passion and of course not to surrender to the difficulties of life. Her paintings only pushed her to achieve what many abled people can't achieve in her life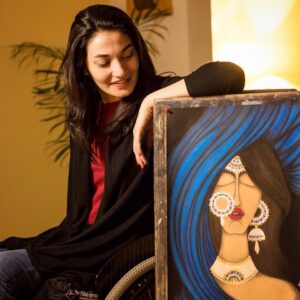 (The Iron Lady of Pakistan)
She kicked off her professional career as a content writer. She has worked with Tony & Guy in 'Women of Substance' campaign as their first wheelchair model. As the brand ambassador of Chugtai Labs, Pakistan, she organizes medical camps, particularly for the less privileged children in Pakistan. The aim behind this is to provide medical facilities to the less fortunate. She is Asia's first wheelchair-bound television host who works as an anchor for the National TV of Pakistan.
She was also featured in the BBC's 100 most inspirational women of 2015. She has given motivational talks on different platforms such as TEDx, Entrepreneurs' Organization (EO), Young Presidents' Organization (YPO), Youth Entrepreneur Organization (YEO), Goalcast, Global Leadership Conference (GLC) 2016, VCon Malaysia 2017, VCon Dubai 2017, Leadership Summit Pakistan and many others. She is Pakistan's first Goodwill Ambassador for UN Women. As an icing on the cake, she is also one of the Forbes 30 under 30 for 2016 in Media and Marketing Category.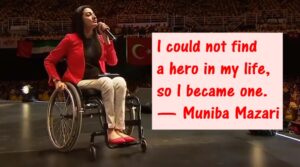 So, is life tough? Indeed, it is. But are we supposed to submit to the difficulties? No, we should not and we must not. Just imagine, if Muniba Mazari had renounced herself to the difficulties of her life, we might never see Asia's first wheelchair model. If J.K. Rowing had surrendered to her life, we would have never known the wizarding world. If Lata Mangeshkar had thought her life was a mess, then the world would have definitely missed something melodious. Many countless examples are there around us.
So, stand up with full energy and decide that we will not submit to the problems of our life. We will fight them, and win over them to make ourselves happy. In the end, I would like to quote Muniba,"You are the hero of your own life story and heroes never give up."
Photo credits:
Meet the author :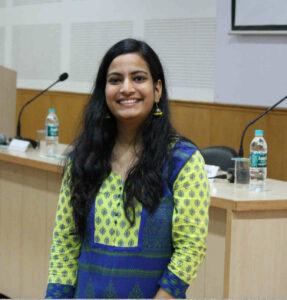 Hello, I am Nidhi Agarwal, a student of Commerce at Delhi University. I like books, music, shows, business, economics…the list is long. If you ever bumped into me, you will always find me gleaming with my widest smile.
Please note: The views, opinions and beliefs expressed by the authors in the articles on the blog are theirs alone and do not necessarily reflect those of Lean In India.