World Economic Forum (WEF) says it will take 217 years for us to achieve gender parity. And I am not surprised…
Two failed pregnancies. A stressful work life. An equally challenging family life with elderly parent-in-laws to take care of. However, with God's grace, she conceived again. This time, she didn't want to let "it" go. Instead, she let go of her seven figure salary.
Post nine months, she is now blessed with a baby girl and is busy playing Mary Had A Little Lamb!
In between changing nappies and singing lullabies, a thought constantly chases her mind. " Will I be able to join back? "
I am sure we have come across many such women who have quit their jobs for their kids or crossed countries as their husbands moved. When it comes to choosing family over career, often times, it's Her who chooses to make this choice.
As part of my recent assignment with Lean In India on Restart Her Career program, I got an opportunity to interview few women who are currently on a break from work. Listening to their stories needed some courage and empathy.
Some of them have totally lost hope to join back. Some feel highly redundant. Lack of safe child care environment was the trigger for many to quit their jobs. Most cited a "CV-Gap" as the biggest challenge – they are either offered a position much lower in comparison to their work experience or are offered roles which do not match their expertise. Some women, on request of anonymity mentioned that they at times even regret their decision of going the family way!
A recent report from WEF is equally disturbing. It says it will take 217 years for us to achieve gender parity. And I am not surprised. If well read, educated, experienced and professional women view joining back work as a BIG challenge, I am sure the other strata of women would have to fight even harder to get there.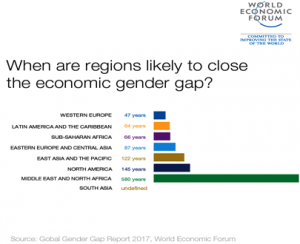 So are we doing anything to close this gender gap?
I have a few questions: –
Why can't organisations have a KPI to hire at least 1% of their workforce from a pool of women that are on sabbatical?Governments invest heavily in building roads and railways. Why can't there be a strong focus on investing in physical infrastructure for child (crèche) and elderly care?Why can't each one of us promise to ourselves to at least refer 2-3 women in our network who are on sabbatical and need jobs?
These questions don't need an answer right away. But it's a mindset change that we all are fighting. If we don't act now, it will not be far away that this 217 would double itself in no time.
I am worried.
About the author:
Aanchal Makkar is a senior research analyst covering energy sector at Ernst & Young, a strong believer of women empowerment, a doting mommy and travel freak with her partner in crime- hubby.