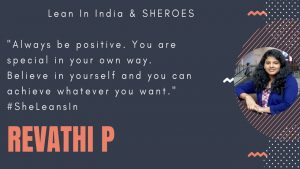 "TTTTRRRINGGG!! The alarm goes off at 7 am. Wake up, have a shower, go to work. Come back from work at 10 pm, sleep. Work- Home- work- home. No job satisfaction,demanding work, no leisure hours (or me time), constant pressure to learn new skills to stay relevant, super stressful! This was my life for four years after engineering. One day, all this got to me and I decided to quit! To take some time off to pause and reflect. What were the skills I needed to stay "important enough" in my company? For 6 months, I researched on what I needed, I acquired new skills, spent time with family and eventually got a SAP Certification in SAP BI. When I decided to get back to the workforce, I came across SAP's "Back to Work" program. I am currently working in SAP as SAP BI Consultant, which also gave me a great opportunity to work on advanced topics such as BI-IP. It gave me good mentors, restored my self-confidence and a group of nice colleagues who helped me balance my professional and personal life. As someone rightly said, "Time is not measured by clocks, but by moments. And my most prefect moments are when I can come back home to spend ample time with the people who are my greatest blessing.
Always be positive. You are special in your own way. Believe yourself, you can achieve what you want".
Please note: The views, opinions and beliefs expressed by the authors in the articles on the blog are theirs alone and do not necessarily reflect those of Lean In India.