Finding inspiring women in our homes, workplace, or even the adjacent seat!!
Each one of us-whether a student or not, working or not, comes across these questions -Who is your role model? Who do you look up to? Who inspires you? These questions make us stop and think, about who do we really admire and look up to.
I have been in many such situations where in I have been asked to name a female personality who has had a deep impact on me and my thoughts. My answers always oscillate between some famous businesswoman, a political revolutionary or a social activist. However, every time I gave such answers, I used to ask myself, 'really? Do I know these personalities enough that I can emulate them or follow their path?'
This brings me to this article's theme-about women who inspire us-it could be anyone from our neighbour, sister, mother, friend, mentor, teacher to a more famous and public figure who is a sportsperson, celebrity or a politician.
I feel very fortunate to be surrounded by women who inspire and motivate me to push boundaries, defy all odds and never settle for nothing but the best. These lovely ladies include my mother, my friends, my mentors and my teachers.
Knowing each of them through their behaviour, attitude and work helps me understand them and moreover, their life path reflects their true values, beliefs and their personality.
I still remember when I used to visit my maternal grandmother's place, I used to see her work hard day and night, cook meals for all of us, take care of the house and ensure that it is efficiently and smoothly run. I also remember the anecdotes my mom used to narrate about her childhood, that how my grandma used to have a busy routine-taking care of kids and parents, looking after guests, fulfilling religious duties and making peace with the fact that she rarely had time for herself. I have also seen my mother work extremely hard to balance her clinic and home. It has made me and my sister very independent and also proud of her that she has shouldered the responsibilities and fulfilled them with complete grace, dedication and devotion. Both of them are very important sources of inspiration in my life, as I have imbibed their positive qualities of tenacity, hard work, humility and the art of spreading love.
These women, and a lot of others that I have met and interacted substantially with during my college, travels or work have filled me with positivity and optimism to take newer challenges and also get inspired by their triumphs in life.
The glamorous photo shoots, interview spreads, talk shows and other media surely helps in getting to know celebrated women up close, but we cannot establish a personal relationship with them. However, I am not undermining the importance of what famous women play in our lives, as their struggle and success stories are worth our time, attention and they also encourage us to take risks in life and do the unthinkable.
We all need to strive and become better role models with every passing generation so that our younger sisters, friends, kids and everyone around has a role model in their house. Each one of us should also try to reconnect with our family members, as we never know, some of our aunts, sisters, cousins or anyone else may have a story that could move us, inspire us, empower us or instill confidence in us to be better in various fields.
As Keri Russel says, "not only in history, cinema, literature or politics, female role models are everywhere-we just need to look around and get inspired by any and every women who has shown grit, perseverance and optimism in her life."
About the author: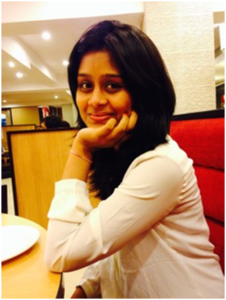 My name is Praachi and I am an economics and business student at New York University. I love travelling, watching movies and writing. I am also fond of trying out new cuisines.
Lean In is one of my favourite books, and to be associated with Lean In India chapter is a matter of great privilege and pride for me.