Dress codes, stated or unstated, have always been a pertinent definition of women in their social or professional lives, the variables being culture, political environment, religion, and social norms. But very often these controls loosen out and take different forms and shapes as women become accepted for their competence, creativity, maturity and leadership qualities and of course qualifications. If that be so, women have the sound sense to choose what to wear, when and where. Trust women!
At the institution I was teaching in, from where I retired a year ago, the management gave me a list of specifications that included a dress code for staff and faculty to adhere to diligently. Men had it easy- light coloured shirt and pants, a tie when the weather was comfortable and shoes. The versatile sari was the chosen dress for women, with the blouse having a 'decent' neckline and the sleeves covering the upper arm. The management had reached this consideration with the noble purpose of giving the women staff status, dignity and acceptance in their profession. "Women are taken seriously in a sari."
Most women in my department were more than happy to bring out their wide-ranging folds of saris from hibernation, but quietly groused that they would be happy to wear something more 'comfortable' as draping oneself in a sari for six hours in a day could be tiresome. A few months down the line, a group of well qualified young women joined the institution. They immediately objected to the dress code as they had never owned or worn a sari their entire lives! The management, to accommodate them,( they couldn't let staff of such high value slip away because of a dress code) changed the regulations to say that pants and women's shirts would be allowed with a formal coat when the weather allowed. This encouraged other young women staff in the institution to expand their wardrobe. Soon status, dignity and acceptability were thrust on us for the quality of our work, if not for what we wore. Most heads of departments were women anyway.
The students who otherwise had the versatility of young, modern clothes came under the scrutiny of the dress code too. The girls were required to wear loose trousers or midi skirts with long tops that covered their hips. Salwar kameeze was an option. Jeans and high heels were taboo. The management believed this would give the girls a sense of decency and protection. It also gave the institution a sense of professionalism. But anomalies came along in the form of Sri Lankan and African students who made their own fashion statement. The management looked away as these foreign students were a great asset to the institution, monetarily and prestigiously. Soon everyone agreed that the African students with their colourful and snug fitting attires that enhanced their lineal bodies were the best dressed! The local students did not waste time to fall into step and dress codes remained on paper.
I am reminded of my daughter's English School Physical Training teacher in Kuwait who wore shorts and a sporty shirt while training high school students, boys and girls, in a conservative country that demanded strict dress regulations for women. She was much loved and respected amongst staff, students and parents for her diligent work and the decorum she maintained. In fact she never compromised her sporty attire even into the eighth month of her pregnancy with a very visible bump and no one complained or remarked adversely.
And fifty years ago my geography teacher who wore tight short skirts, sleeveless tops and high heels was voted the best teacher in school for conducting the most creative and interesting classes. Geography was every ones favourite subject! We loved the way she dressed too!
At a show put up by the students of Fashion and Apparel Design department, a student had a slogan by the designs he had created. It said, "wear your Attitude". I asked him If this would ever happen. His reply: "it's already here. It's going to flavour our work and social spaces completely."
About the author: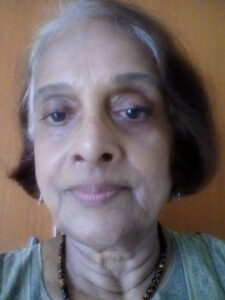 Vijayalakshmi
I graduated from Lady Shri Ram College, Delhi in 1971 with a major in Political Science Hons. Thereon I completed a few courses in the field of teaching as I had a great passion for that profession. I have had the opportunity to work in schools and colleges in India and abroad during the course of thirty years. Teaching has taught me lessons on life in more ways than I can count. I have grown and matured as a person in the many class rooms I have been in. A teacher inspires, builds imagination and shapes the character and calibre of her students, and instills in them the love of learning. I have gained the same being a teacher.
Please note: The views, opinions and beliefs expressed by the authors in the articles on the blog are theirs alone and do not necessarily reflect those of Lean In India.