Reports say in India, 24% teenagers are forced to skip their schools owing to menstruation. It is a hard reality that out of the 335 menstruating women in India, only 12% use Sanitary Napkins. The others are forced to use clothes, newspapers, ashes and husk sand; since the sanitary napkin is considered as a luxury. This results in various health issues because these options neither provide comfort nor cleanliness.
It is said that 'a strong woman stands up for herself, but stronger women stand up for others'. It was with this passion of standing up for other women that brought together the six Trustees of WOW or World of Women, i.e. Vandana Boggaram, Vinitha Suraj, Kavitha Garla, Sandhya Chandran, Preethi Dadu and Nirmala Nayak, to establish an all women NGO, with a common goal of empowering Indian women.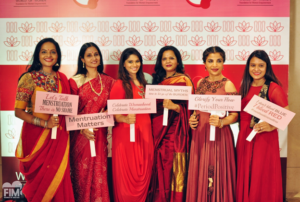 Team WOW stands in solidarity with Women Empowerment movements in India and Globally
Today Team WOW has aligned itself to focus on all aspects related to Menstrual Hygiene including debunking taboos and myths associated with this topic. With 18 major outreach programs and putting smiles on over 3,000+ faces, the success of WOW's programs lies in the inherent simplicity of its program's strategy and execution.
Knowledge is Power – Equip women with right knowledge and information
1. Celebrating menstruation – Viewing it positively ,devoid of social stigma
2. Expanding the Dialogue – Nurturing a supportive environment by including individuals, who can make a difference, across all sections of the society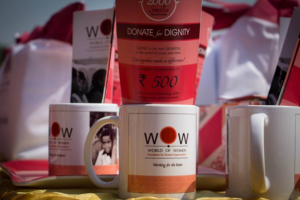 Team WOW's merchandise
Team WOW receives donations from corporates and sponsors. The conversation on Menstrual Hygiene is picking in India. The team uses these funds to educate and distribute Menstrual Kits among various beneficiaries. The Kits include one year's supply of quality sanitary napkins, soap and undergarments, which gets young girls and women started on the path of hygiene. The recipients include factory workers in urban areas, school girls in rural areas or government schools, orphanages, domestic help etc.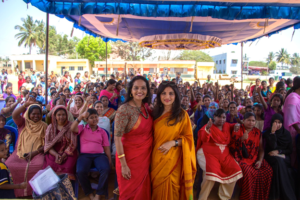 Team WOW's education session in progress
Some events that have been completed by the team include –
1. Distribution event at Sarathy International for 150 Women
2. Education session at Parikrama Jayanagar, Bangalore for 150 children
3. Distribution and education session at Jagranhalli Government school , Bangalore for 150 women
4. Education and distribution event for 150 children at St Marys Convent school
5. Awareness and education session at CSB, Bangalore
6. Education and distribution event at Jyothi Hill School for 150 children
7. Mittal Clothing Company's aid of 400 kits to factory workers
Women attending a session being addressed by Team WOW
Team WOW recently did an activity as First Grade Government College, Malleshwaram, Bangalore along with Big FM 92.7 radio channel too and the video is available on Youtube. Meanwhile
click here
to watch Team WOW in action!
If you would like to be part of WOW's amazing journey, here is a link to their
Facebook page
.
Please note: The views, opinions and beliefs expressed by the authors in the articles on the blog are theirs alone and do not necessarily reflect those of Lean In India.