You Only Live Once.
So; don't think twice,
and explore the world, on your own!
Two footloose travellers, Amruta and Manishree (fondly called as Mani!) take you through their odyssey and provide a sneak peek into their passion for travel.
Amruta: Travelling comes as naturally to me as breathing. It is a crucial part of my being. It makes me happy, and helps me survive routine! I am on a constant lookout for the next destination, and I try not to repeat any. There is so much to explore that I feel I will lose out on it if I repeat my journey (unless it's work related, in which case I have no choice! Sigh!).
Mani: Travelling is an extension to my adventurous, 'always eager to learn' wandering soul. As the proverb goes, ' Every two miles the water changes, every four miles the speech.' – Move out of the mundane and there is a plethora of things to learn from. So many different ways of doing things, perspectives, things taken for granted by us which are luxury for not-so-lucky few. It is therapy, in literal sense. Can't agree more on 'so much to explore' thought – My 'places to visit before I die' list is overflowing with names!!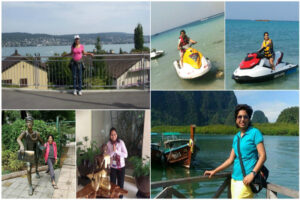 Amruta: The best part of any travel (at least for me) is the planning part. It is so much fun figuring out the attractions, the adventures, the food, the culture, places to visit, and things to do!! Time difference(if travelling out of your time zone), travel, commute, what's pocket friendly, yet exciting, anything cool like a once in a lifetime that I don't want to miss even if might cost me a small fortune?? Like in Switzerland I tried my hand at skydiving!! Nothing compares!! Whereas at Lakshadweep I went deep sea diving – done capturing the skies and exploring the depths! What more can one ask for!
What all do I want to try out, how experimental am I? What about local specialities? What do I get back as souvenirs? What do the locals have to offer? Is it a possibility to "live their lives"? Like when I was at Himachal Pradesh, teaching French to the Tibetan refugees, they let me see how they lived, what they ate. An insight on how their lifestyle was. It was a very enriching and a fulfilling experience.
Mani: Interesting stuff, Amruta! I have tried some variants in the planning division – from ZERO research to TMI levels – and it was best when I had no clue about the destination. I am a planner by profession, so for a change it was so much relaxed and fun to not plan anything and go with the flow. Guess it is the beauty of exploring something completely new that gives my observant eyes a high!
Amruta: The actual bookings now are a piece of cake! Truly! God bless the burgeoning apps and sites that make traveller's life much less daunting. These days, the process of getting a visa is also much smoother. Book an online appointment- easy peasy! Booking stay is super easy with apps and offers that are on almost all year around makes it even more tempting!
Mani: True! My adrenaline goes in overdrive the moment my tickets are confirmed. An approval from the boss before hand helps, of course!! As I type this, have another trip coming up and my excitement levels are palpable.
The love for hostels overrides a luxurious stay, any day – where else will you get an opportunity to interact with so many people from various places across the globe? I remember the Brexit chats with my English roommates in Krabi, and watching football with people from 9 different nations in the hostel lobby, all rooting for countries they did not belong to! Truly cosmopolitan, and an experience in itself!
There is so much fun in exploring a place absolutely by yourself – trust me you don't get bored! You are your own boss – you don't wish to see the # 1 destination on trip advisor, don't go ahead. Simple! No regrets, no 'adjustments', no 'giving in' and no pressure. Of late it has become a fad to travel alone, so you would find a number of solo travellers, wherever you go – if your chatty mind absolutely needs someone to talk to!
Amruta: I have been on many solo trips, they have so much to offer. First off, since you are on your own, you are extra careful (smart thing to do!), you meet more people, you get out of your comfort zone, and there is no pressure to do or not do anything you like. You book destinations and things to do as per your pace and your liking. For my first solo trip, I was very sceptical about what I do, that too by myself. But to my surprise, I loved it. Strangers come and talk to you, and you exchange your thoughts and experiences which is really very "cool".
Mani:Everyone has unique tastes and preferences, and it is totally understandable if travelling solo doesn't work for you. If you are not too sure, test it out on a weekend trip, as a pilot – may be the experience exceeds your expectations! Who knows, you might surprise yourself!! I did! How and Why is another blog post, altogether!
Had booked one of my tickets 6 months in advance, and those 6 months of planning about my next destination was enough to keep stress at bay, lest it arrive! Strongly recommend to have at least one upcoming trip in your calendar, always (and booking early is easy on the pocket as well, Yay!!)
You Only Live Once (YOLO) and Solo is super fun too!! And it is December, the Friday of the months. What are you waiting for? Stop daydreaming, and go for it! The world is waiting for you!
Happy travels!!!
Meet the #nomads: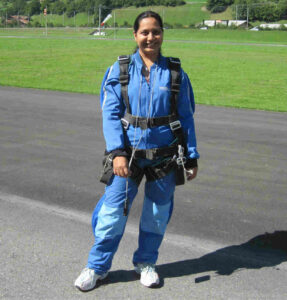 Amruta: A commerce graduate and has pursued her commercial diploma in French. She is a footloose traveller and loves reading books. Besides these, she is actively involved with social causes, organic gardening, adventure sports, or anything exciting that comes her way.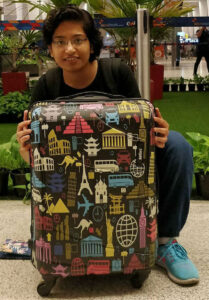 Ma
nishree Gupta
: A Doctor by qualification, financial analyst by choice, sports enthusiast by passion and an egalitarian by heart.Operates in either of these zones – Workaholism and traveloholism – what else!! (P.S. – Yes, they both can co-exist!)
Please note: The views, opinions and beliefs expressed by the authors in the articles on the blog are theirs alone and do not necessarily reflect those of Lean In India.
Please note: The views, opinions and beliefs expressed by the authors in the articles on the blog are theirs alone and do not necessarily reflect those of Lean In India.