Hazra Mohommad Ali Shah, 50, lived in Kamathipura, in a ramshackle one bedroom where curtains replaced the main door. The hoarding outside, "Family Room No. 19" was on the verge of collapse and had been carefully placed over a stack of empty water buckets. Inside, clothes and cups hung over floating wires tied to rusty iron poles of her canopy bed. Larger utensils were supported by tins of oil positioned to cover the plaster less patches on the wall. Invisible shepherding ropes were representative of the ghetto, of the biggest red light area in Mumbai, where a minimum of four residents unrelated by blood occupied one bedroom spaces called family homes.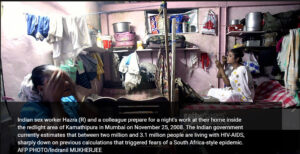 Hazra had no sign of aging on her body: her hair without any traces of white or grey were neatly tied in a pony, while her cheeks, having never developed any creases, flushed with pink and glow. It was difficult to find a single fold on her forehead even when it pained her to drag her artificial foot at times, just like it was impossible to find traces of worry on her lips, even if she claimed she might die today or at latest, by tomorrow.
I first met Hazra where most of you might never expect a prostitute to be: in a municipal school building of a rather "sophisticated" area in Mumbai. I was writing an article for the Times of India and Hazra happened to be one of the persons leading me to my source. She was first brought and bought in Mumbai at the maiden age of thirteen- sold by her uncle to clear of his pending debts- tricked by the fantasy that is Mumbai. Hazra was imported from a small town in Tamil Nadu, which she described as the "place where crackers are manufactured." Considering her South Indian origin pious, she said, "I would have never accepted a sex worker's job."
But nothing could really change the fact that her fate had once and for all been sealed by the monetary gains her uncle and buyers were about to make. For the first month or so, she tried all methods of protesting: begging, violently arguing, fasting, and attempting suicide. "They tried verbally and physically abusing me thinking I would submit," she said. When their attempts failed, they tied her wrists and legs even if it meant customers would pay less. "This went on for another month of being locked in the same room, after which, I gave up. They now let me out of the room but obviously not the house," she said while rubbing her eyes that were now unable to hold back the water.
"I was working more than my body would allow. I could feel the exhaustion and the decay. But I just wanted to clear the debt and be freed," said Hazra who was then granted freedom after six months of continuous labor and toil. She continued her job but was now not liable to any institution.
"After five years, when I was finally about eighteen, I immediately pounced at the first job I was offered: the position of a bar girl at Sridevi Bar in Chembur.
In the years that followed, Hazra would move to Delhi with a man she met at the bar and whom she would eventually marry. By the time her husband would lose his job, Hazra would have already bore him two daughters. The clan would finally move back to Mumbai where she would be advised to sell her body so the family could purchase an extra loaf of bread.
"He just said that it was my duty to feed him now since he had been feeding me for years. I didn't know how to respond so I went back to work again," she said. Happiness is short-lived when a woman invades a man's territory and Hazra was taking major leaps. So he beat her up, cut her hair, forced himself on her until she fainted, locked the house and never returned.
Hazra took to the streets instead of taking in people who approached her on the street. Mumbai's heat never called for blankets so it was easier for the daughters to sleep hugging their mother's chest, struggling to lay their bodies on the torn cloth they used as a mattress. But keeping the daughters on the street wasn't safe. She decided to temporarily give her daughters away, "I admitted them to the closest government school and hostel. I told them I will return if I am alive but if they hear of my death, they should keep my daughters safe."
Like most of the distressed and helpless labor in the country, Hazra saw an opportunity in Saudi. She was following what most of the people from her community did: accept any kind of labor abroad to earn the required amount that will keep you going for at least a few years in your hometown.
And so it did. She bought properties when she returned in a village close to her hometown, signing it under each of her daughter's name. Having finally made all the arrangements, she came back to Mumbai so she could have one last look at them before flying back to Saudi.
"I was passing the streets of Kamathipura where I saw a few men calling on my sisters, my Kamathipura family. They had parked a mini-van on the corner of the street and were testing people for HIV. They called me and I went."
Hazra was diagnosed as HIV positive. She spent the next week getting drunk on cheap alcohol and abusing everyone who approached her. "The following week I saw the car again and Vinay Bhai (brother) shouted my name. He asked me the reason I didn't look my usual self when I laughed and said, "there's no time left," to which he held my shoulders and responded, "You are strong and healthy, if you do as I say, you shall live."
The van that Hazra had approached belonged to a Non Governmental and Non Profit Organization called SAI (Social Activities Integration). Established in 1991 & registered in 1999 by Mr. Vinay Vasta (the founder and Secretary General), SAI aims to prevent the spread of HIV/AIDS and cancer while also bringing relief to the affected AIDS and cancer patients who need support and care. And who needs more care than the ones shunned by the whole of the nation.
Vasta's target group had always been sex workers. "I started this work when my best friend committed suicide after learning he had AIDS. At that time people weren't aware and I decided that crying over his body wouldn't help. With the help of other people, I started a group that initially only focused on street demonstrations to spread awareness." When he first met the women of Kamathipura, he addressed them as "sisters."
Hazra has been helping him achieve his goal for 15 years now. "I encourage everyone to practice safe sex. I distribute condoms and spread awareness. They pay me for the work I do."
Hazra's older daughter is a teacher and is married and settled with an engineer she met in Bangalore. Her younger daughter has completed her training as an airhostess and wants to continue to study. "My daughters were my main motivation. I couldn't give them the life I was given." She slid her hand in the purse she tightly held to reveal a picture of her daughters. I looked at them and I looked at her. They mirrored her in ways unknown. They looked beautiful and young. They looked happy just like she did.
I hugged her when I said goodbye and she held my hands, looked me in the eyes and uttered, "You can do it." I don't know what she saw in my eyes. I will never know how she recognized the potential I never did. I will never know what she wanted me to do but I hope I accomplish whatever she had desired just like she did for herself and for her daughters.
About the author:
My name is Sushmita Roy and I am currently an undergraduate student pursuing journalism and psychology at New York University. My research interests include: immigration, human interest stories and giving voice to those who are often mistaken as mute. I am originally from Jaipur and hence love everything historical and royal. When I am not writing, I am usually gossiping, cooking or binge watching TV shows.